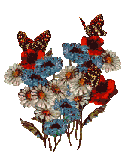 From Your Administrator:
I just wanted to let all you know I am back. My name is Deborah Shrira and I have been away dealing with my own problems. I will tell all of you about them because they had to do with the Methadone Maintenance Treatment Program I was attending. I know I couldn't be the only one having problems and I would like to hear from any of you if you are having any.
It has taken me many months to straighten it all out and now I'm in a new one. I can say it is absolutely wonderful compared to the one I was at. We have another member here who was at the one I was attending and she can tell you just how awful it was for me and her. I transferred to the one she was going to after I had first transferred to another one. He made allegations about me to the one I transferred to and they didn't want me to stay even though, they had to dose me until I found another one.

I have been through a living H- - - on Earth and I really began to hate the fact I was dependent on methadone. If I hadn't been I could have told Him exactly how I felt and filed charges and walked out. I couldn't do it because He had already blocked my transfer to another one I tried to transfer to and many of them wouldn't even accept me because of the dose I am on. I had already called almost everyone of them in Georgia. It isn't usually any problem if you want to transfer but if you are on a high dose it has definitely became one.
He became angry at comments about his MMT Program which had been put on "Rate Your Program" on Medical Assisted Treatment. They were not very good comments but I knew they were the truth. I had overlooked them because I was busy having dental work done and my friend put them on but she had no idea they would get me in any trouble. They did and He was ready to discharge me and He knew I probably couldn't find anyone else to take me on as a patient, so He was sure He had me.
I had to remove the remarks and it broke my heart because I felt as if I was being disloyal to all of you. I had to even remove "Rate Your Program." He threatened to sue me ...on the grounds He was losing business because of me. How stupid can one man be? He couldn't see He was losing business because of his own self. He treated us with no dignity nor any respect. I just want to apologize to all of you who did post on "Rate Your Program" and I have it back up with all of your posts on it. I admire all of you who took the time to tell the truth about the one you attended.
It is about the only justice we have ...it is our only way of being heard because many of the State Methadone Authorities have stopped listening to us and they take the word of the staff over ours. I'm saying most of them but I am sure all of them don't but it is our next step up the ladder, if we can't obtain justice at the MMT Program we are attending. You really need to get it out if they have mistreated you. If there is no one you can tell then write it down in your journal but try and do something to release the anger. It is very frustrating when you feel trapped and can't do anything about it. I know how I felt and I was angry at myself because I didn't speak out more and each day it continued I hated myself more and more.
I am back and I will be putting new information on. I would like all of you to check out "The Director's View." http://www.MedicalAssistedTreatment.org/636515/index.html
I just started it back monthly and I have some news about EKGs. It is going to be just a matter of time before they require patients to have EKGs in order to obtain their methadone/ I am just trying to keep you updated on "What's Happening?" I did call CSAT after reading the article and it came straight from their mouth. You probably are not aware of it but many already require patients on a high dose to have one, (like myself).
I'm not sure I totally agree and I want to see what their evidence is but they claim methadone can cause heart problems. They are not all in agreement over it and I need to read up on it more before I can actually make a decision. I did want you to know as early as possible -unless they have a change in heart it will become a reality.
I would like for all you to check out another article which had to do with methadone and the HIV drugs. http://www.MedicalAssistedTreatment.org/633655/638805.html
I think you will find it very interesting especially if you are taking these drugs. They found out the enzyme they believed metabolized methadone to be the wrong one. Isn't it interesting?
I am back at work finally and I will get back to all of you. Please take the time to share your stories and tell us about your Methadone Maintenance. We really do care and we will assist you if you need help. Let's open up and talk to one another. If you have any questions then please take the time to ask. See you soon.
Deborah