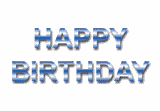 I wanted to remind you guys to be sure and wish a very special lady a VERY HAPPY BIRTHDAY tomorrow (Tues 6/1).
The CEO/OWNER/CREATOR of Medical Assisted Treatment of America Inc. and this forum is a lady that I have been so honored to know. She opened her arms and helped me when I thought there was no one else out there that really cared about me as an MMT pt. She was willing to do whatever she could to help me get through my hard time and encourage me. Once I was back on my feet again,she trusted me enough to hand over some responsibilities to me so that I could return the favor and help her with her mission.
She has worked very hard to make sure that each and every person that reaches out to her for help gets some kind of response back. She has dedicated countless hours, tears and hard work to the site and the forum and even though she had some backlash from maintaining her site, she has hung in there so we would all have somewhere to go when no one else out there wants to be "bothered".
She is a very special lady who deserves a very special birthday and I hope that you have the best.
You guys take a moment to wish her a happy day. Without her and her dedication, this site and forum wouldn't even be here.
HAPPY BIRTHDAY DEBORAH!


RuthAnn
aka lilgirllost

We are not bad people trying to become good, we are sick people trying to become well.

Methadone; A Flicker Of Light In The Dark
www.medicalassistedtreatment.org
www.suboxoneassistedtreatment.org
We are available 24 hours a day, 7 days a week.
If you cannot afford to call us, send us an email and
we will call you at our expense.
Office: 1-770-334-3655~ Cell: 1-770-527-9119
Email: mrdeanv@aol.com
ALL INFORMATION IS KEPT STRICKLY CONFIDENTIAL