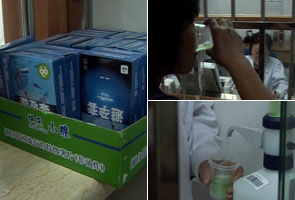 Press Release 06/26/2010
Beijing: June 26 is the International Day against Drug Abuse. Methadone, a drug that helps heroin users kick their habit continues to be unavailable in India despite the increasing number of cases of drug abuse in the country.
The situation is in sharp contrast to China, which has established thousands of methadone clinics across the country.
Danny used to be a flight attendant employed by a Chinese airline till his heroin addiction weakened his body, forcing him to give up work. "I met friends who were crazy. They used to visit bars and discotheques frequently. It was through them, that I first encountered Heroin," said Danny.
Picked up by the police, he was admitted to compulsory detoxification twice. But it did not help. Four years ago a friend brought him to the methadone maintenance programme offered at a clinic.
Methadone maintenance programme is a national programme rolled out by the Government of China. A number of Beijing's formerly hidden injecting drug users walk into well organised clinics and get themselves treated.
First a psychosocial assessment and drug use history is conducted.
The methadone comes in a liquid form. The patients have to drink up their daily dosage right on the spot. There are no leakages and the drug is properly accounted for.
Developed as a synthetic pain killer, methadone has become common in US and Europe as a means of reducing cravings for heroin without altering the mood. It also reduces harm to users from street drugs and needles.
It is pharmacotherapy and if properly implemented it allows people to function on a day-to-day basis and reduces the risk of overdose. And the drug user is no longer doing something that is against the law.
"China realised methadone substitution is important . Once they realised and took a decision, they have scaled it up very fast. From 30 to 40 centres…today there are more 1000, or 2000.They are using it as an importnat strategy for prevention of infection among drug user community,"
said Dr Prasada Rao, Senior Advisor, UNAIDS.
In China, injecting drug users account for nearly 44 per cent of HIV. In India too injecting drug users are 15 times more at risk of getting HIV compared to the general population. Oral substitution therapy prevents all blood borne viruses like HIV, Hepatis B and C.
While India has been dragging its feet on methadone clinics, clearly China has shown that reforms witnessed in the industrial sector should be reflected in the social sector too.
Source:
LAOATAY.COM
NDTV.com
posted by:
Dee~06/27/2010