Addiction: A First in Sub-Saharan Africa: Methadone Maintenance Program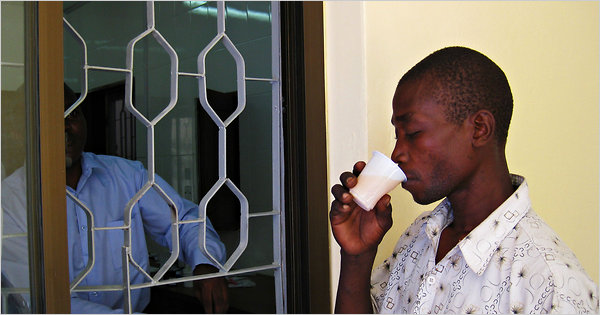 With the help of the American government, the first methadone maintenance program in sub-Saharan Africa opened this month in a hospital in Dar es Salaam, Tanzania.
While heroin use is not common in Africa, it has been growing recently in Tanzania's port cities, which are used to ship the drug, usually from Afghanistan to Europe. Drug couriers may be paid in heroin, creating a new group of addicts.
Tanzania now has an estimated 25,000 drug injectors, 40 percent of them infected with H.I.V., according to the Pangaea Global AIDS Foundation, a San Francisco-based group that is advising the Tanzanian government on the program. The United States President's Emergency Plan for AIDS Relief, created by President George W. Bush, is paying for it.
Needle-sharing spreads both H.I.V. and hepatitis. Last year, an American researcher reported finding Tanzanians practicing "flashblood," in which one addict injects herself with another's blood in the hopes of sharing the high.
In Africa, fear of the unfamiliar often leads to accusations of witchcraft, and if heroin use is unfamiliar, methadone is even more so. Methadone is even more addictive than heroin, though it is given in oral doses meant to be small enough to produce no high. In announcing the opening of the program at Muhimbili Hospital, the American Embassy in Tanzania said it was "fully aware that challenges will likely be encountered whilst services are being established."
Article Source:
NY Times
RuthAnn
aka lilgirllost
We are not bad people trying to become good, we are sick people trying to become well.
Methadone; A Flicker Of Light In The Dark
www.medicalassistedtreatment.org
www.suboxoneassistedtreatment.org
We are available 24 hours a day, 7 days a week.
If you cannot afford to call us, send us an email and
we will call you at our expense.
Office: 1-770-334-3655~ Cell: 1-770-527-9119
Email:
mrdeanv@aol.com
ALL INFORMATION IS KEPT STRICKLY CONFIDENTIAL