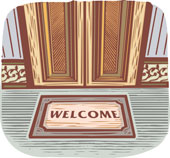 Hello everyone. We have some new members to welcome.
First we have Vama from San Francisco, CA and edy from Minneapolis, MN. They didn't share anything more with us about themselves, but I hope in time they will feel comfortable enough to tell us a bit about themselves.
We also have Truth Set Free from Painstville, KY who says he's happily married and an AVID gun collector (well actually his exact words were GUN NUT but I thought I would be PC here! lol!) He shared that methadone saved his life and he hopes to one day help someone else and prevent the pain and misery that he and his wife experience dealing with his addiction. Thanks for sharing that with us.
I hope that all of you will make yourselves at home and be active mbrs of the forum. It isn't always easy being a methadone pt or a loved one of a methadone pt. You would think the worst of it was over with once you quit abusing drugs and became a more stable person again, but that isn't always the case. Not only do we have to struggle with our addiction demons we have to struggle with our "secret life" as a methadone pt because so many don't support methadone treatment.
With this forum we hope to provide a place where methadone pts, family mbrs of methadone pts and even medical professionals who work w/methadone pts can get together and support one another.
So please make youself at home, check out the postings and articles and add some of your own. We would love to hear a bit about yourself and your experiences with methadone and methadone treatment so don't be a stranger!
If you need any help with anything or just want to talk to someone privately, we are here for you. You can either post something to the forum or if you wish to speak privately you can private message through the private messaging feature in the message section of the forum. Just know that we are her for you if you need us.
Take care and I hope to see you around the forum!


RuthAnn
aka lilgirllost

We are not bad people trying to become good, we are sick people trying to become well.

Methadone; A Flicker Of Light In The Dark
www.medicalassistedtreatment.org
www.suboxoneassistedtreatment.org
We are available 24 hours a day, 7 days a week.
If you cannot afford to call us, send us an email and
we will call you at our expense.
Office: 1-770-334-3655~ Cell: 1-770-527-9119
Email: mrdeanv@aol.com
ALL INFORMATION IS KEPT STRICKLY CONFIDENTIAL