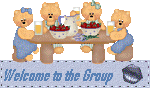 Good afternoon musicmyxcape and welcome to the Methadone forum, A Flicker of Light In The Dark.
It is good to see you here.
To introduce myself, my name is Dee and I am one of the moderators of the forum. Make yourself at home and tell us how you are. I mean how you really are.
How has Methadone changed your life? Take your time, and get comfortable, our home is your home now.
If there is anything that I can do for you or if you have any questions please let me know. I will do what I can to help you find the answers to you questions.
Yours In Recovery,
Dee


"I will let yesterday end so that today can begin"



Never take any online advice over that of a qualified healthcare provider