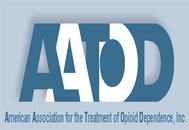 Challenges and Solutions - # 7 of 9 in a weekly series
The Challenge: Increasing Use/Abuse of Prescription Opioids in the US
Federal agencies expressed concerns in 2002 about the abuse of prescription opioids as a reason for patients entering treatment.
Solution
AATOD did not have any organized system of collecting such data, and we worked with senior officials at Purdue Pharma and senior researchers at NDRI during 2003-2004 to develop a longitudinal method of collecting patient admission data so that we could capture and better understand the changing characteristics and drug using patterns of patients as they enter and remain in treatment. This evolved into the present study, which is conducted under the auspices of the Denver Health and Hospital Authority to evaluate the use of prescription opioids and changing patient characteristics in the OTPs (RADARS® System).
At present, more than 46,000 patients have voluntarily completed survey instruments (2005-present) as they were admitted to 75 OTPs in 34 states. We have also learned that approximately 15% of this patient population cross state lines to access care, providing valuable information to state and federal officials in the event of emergencies and natural disasters. We have also learned a great deal about how patients use and abuse prescription opioids, including a high percentage of patients (35%) who inject such opioid medications.
What May Have Happened If AATOD Had Not Acted
We would still not understand the changing opioid use/abuse trends of patients as they enter and remain in treatment in different regions of the US. We would not have learned about the injection use of such prescription opioids and we would not have learned valuable zip code details about patients crossing state lines to access care.


RuthAnn
aka lilgirllost

We are not bad people trying to become good, we are sick people trying to become well.

Methadone; A Flicker Of Light In The Dark
www.medicalassistedtreatment.org
www.suboxoneassistedtreatment.org
We are available 24 hours a day, 7 days a week.
If you cannot afford to call us, send us an email and
we will call you at our expense.
Office: 1-770-334-3655~ Cell: 1-770-527-9119
Email: mrdeanv@aol.com
ALL INFORMATION IS KEPT STRICKLY CONFIDENTIAL