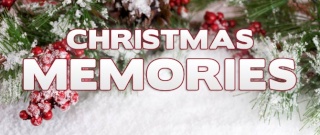 What is your favorite thing to remember about the Holidays? Your best childhood memory?
I was thinking about my childhood this morning and I have a favorite memory that always comes to mind when I think about Holidays past when I was just a little girl.
Growing up we didn't have alot and like most families we pretty much made do with what we had.
Christmas Eve was always special though. It is the one time of year that I can remember my family actually getting along.
Grandma would come over on Christmas Eve loaded down with a lot of different foods as we always had this huge dinner. My grandmother was famous in the family for making Swedish meatballs and baked fish. Silly to remember to some but, for me this was Christmas.
We would start Christmas Eve by going into Long Beach toChristmas Tree Lane, where they have this great big selection of lit houses for the holidays. We would have to wait in line sometimes for hours just to get the chance to drive by all of the lit up houses as the line of cars seem to go on forever (the whole time daddy would be grumbling that he wasn't doing this again next year. Of course he always said it but every year he would be the first one out to the car.

I remember thinking that only the rich people lived in those houses.
Back at home somehow Santa Claus would mysteriously come into the house while we were out and place something under the tree for my sister and I.
After coming home, we would eat until we couldn't move, grandma and mama would do up the dishes while daddy fell asleep in his chair. It was nice and it was comforting. Some times I can think back and still smell the smell of my grandmother and my eyes tear up. What I wouldn't give to have back one of those moments.
Mama, daddy and grandma have long since gone and I have a family of my own now. I've started my own traditions with my family and hope they can one day look back and remember some of the moments that we've created today.
I'd love to hear about some of your memories of times past.
Dee


"I will let yesterday end so that today can begin"



Never take any online advice over that of a qualified healthcare provider