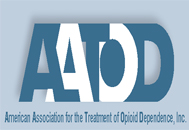 Challenges and Solutions - # 9 of 9 in a weekly series
The Challenge: Consistently Negative Reports in the Media About Methadone Maintenance Treatment
The media reports about our treatment system have been primarily negative during the past 30 years.
Solution
AATOD developed the Media Training Course under the sponsorship of VistaPharm and in partnership with Executive Communications Group for the Washington, DC conference of 2003. This followed on the successful work with SAMHSA/CSAT on the development of the first Media Training booklet, which was forwarded to every OTP in the United States, starting with the premiere edition at the AATOD conference in San Francisco of 2000. AATOD also worked with DANYA International to produce "The Joy of Being Normal (2000)", which was an eight-minute video of three patients and their families, explaining the value of this treatment intervention. It is available on YouTube.
AATOD also provided the opportunity for the National Alliance for Medication Assisted Recovery (NAMA Recovery) to premier their course on advocacy training during the Washington, DC conference of 2003. NAMA has continued their successful training initiatives ever since, and these trainings have been available at every AATOD National Conference.
The media training has continued for program administrators since 2003, and we also initiated work with a number of patient advocates (2009) for their media trainings as a means of better preparing them to work with media in developing positive news stories about their treatment.
What May Have Happened If AATOD Had Not Acted
There would continue to be increasing discord about how treatment providers approach the media. The historic practice of program administrators avoiding any media interaction would have continued. Additionally, a significant number of potentially negative media reports became more balanced through more active engagement of the media.


RuthAnn
aka lilgirllost

We are not bad people trying to become good, we are sick people trying to become well.

Methadone; A Flicker Of Light In The Dark
www.medicalassistedtreatment.org
www.suboxoneassistedtreatment.org
We are available 24 hours a day, 7 days a week.
If you cannot afford to call us, send us an email and
we will call you at our expense.
Office: 1-770-334-3655~ Cell: 1-770-527-9119
Email: mrdeanv@aol.com
ALL INFORMATION IS KEPT STRICKLY CONFIDENTIAL